Auburn University at Montgomery MSN program marks milestone with first graduating class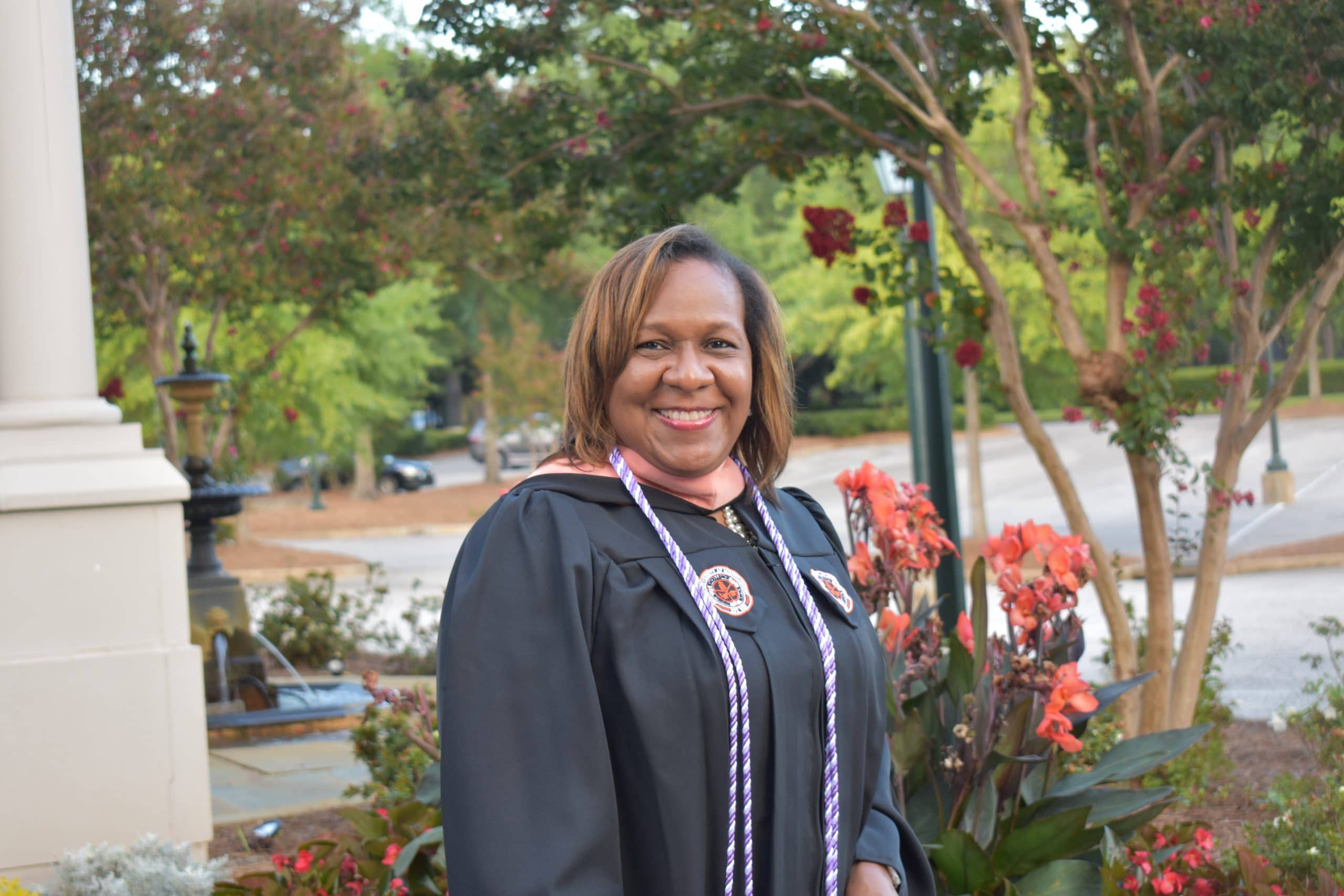 At age 46, Dawneese Bowen ('17 BSN, '20 MSN) made the decision to step outside her comfort zone to pursue a master's degree in nursing at Auburn University at Montgomery (AUM).
"Starting something new in life can cause mixed emotions of excitement, anxiety, and stress," said Bowen, who eventually overcame those emotions to enroll in AUM's then new online Master of Science in Nursing program.
"During my time in the MSN Program, I grew substantially as a student and as a person. I improved my research and writing skills, which are both essential skills while in any graduate program. These are skills that I will forever use as a nurse educator."
In Spring 2020, Bowen became one of the first graduates of AUM's Master of Science in Nursing – Nurse Educator for Interprofessional Practice program. Others in the program's inaugural class are Rebekah Banks King, Courtney Mutabazi, Alexa Penn and La-Tonya Wilkerson.
Bowen — who earned her undergraduate degree in nursing from AUM in 2017 — is now an assistant clinical professor in AUM's College of Nursing and Health Sciences, fulfilling one of her career goals when she started this fall. AUM's MSN program has transformed through the years to meet the needs of today's allied healthcare professionals and to attract nursing students, like Bowen, who are interested in working in academia, research and clinical settings.
"I was proud to accept a new position at AUM in the School of Nursing and excited to be a part of the AUM faculty family," she said. "With the start of this new position, I have been able to achieve one of my career goals as a nurse educator, which was to obtain a position in higher education."
The MSN program's first graduating class marks a significant milestone in the history of the program, which has only been a standalone program for the past two years, said Julie Freeman, department chair for graduate affairs and an associate professor in AUM's School of Nursing.
AUM's MSN program initially began as a joint program with Auburn University, with two courses also taught at Troy University. The program's original curriculum was designed to prepare a clinical nurse specialist with a focus in education and culturally competent care of diverse populations, Freeman said.
The changes experienced by the MSN program also mirror growth of AUM's overall graduate program presence. According to enrollment data reported to the Alabama Commission on Higher Education, AUM's overall graduate student enrollment has grown by 23 percent from the fall of 2019 to the fall of 2020.
In 2009, AUM graduate faculty revised the MSN program's curriculum to address workforce shortages and build faculty expertise to offer courses without assistance from Troy University. The program underwent further restructuring in 2014-15 with AUM establishing the College of Nursing and Health Sciences (CONHS), which today includes AUM's School of Nursing, the Department of Medical and Clinical Laboratory Sciences and the Communication Disorders Department, as well as Warhawk Health Services.
In 2015, AUM hired Jean Leuner as the college's founding dean after a national search. Leuner also serves as the chief nurse administrator for the School of Nursing.
These changes paved the way for AUM to entirely dissolve the joint program in September 2017 and begin offering the current standalone MSN program with two new program tracks: Family Nurse Practitioner (FNP) and Nurse Educator (NE) for Interprofessional Practice, Freeman said.
In Summer 2018, AUM's first standalone MSN program launched with six students in the Nurse Educator for Interprofessional Practice track and 14 students in the Family Nurse Practitioner track.
The nurse educator track prepares students to work in acute care settings providing education to patients and families, as well as colleges and universities, Freeman said.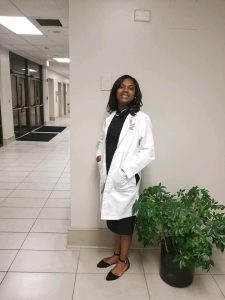 "The program's small cohorts provide students with individualized attention and students work closely with faculty members in the online courses," she said.
Students also learn the skills needed to develop and deliver lessons to undergraduate students in both the traditional BSN and RN to BSN programs.
Before graduating this spring, Bowen and other MSN students also gained an unexpected new learning experience — completing their degrees and entering the workforce during the COVID-19 pandemic.
"As nurse educators, our graduates are prepared to work in nursing education during a pandemic," Freeman said. "Our courses prepare the nurse educator with the skill set necessary to evaluate research for reliability, efficacy, and applicability in any healthcare setting."
Although she graduated during a difficult time because of the pandemic, Penn, who received a job as a psychiatric registered nurse at Bullock Country Hospital in August, said AUM's supportive nursing faculty and her faith helped her to prevail.
"I chose AUM because of the university's reputation for producing competent nurses who excel in the healthcare setting," she said. "I've had to work with COVID-19 patients at my previous place of employment, but AUM prepared me for this work by teaching me the importance of evidence-based practice."
Both Bowen and Penn said they plan to continue their education in the field of nursing and encouraged future nursing graduates to always give their best and push forward even during challenging times.
"Stay committed and do not allow anyone or anything to get you distracted from achieving your goals," said Bowen, who plans to pursue a doctorate in nursing.
Penn, who plans to continue her studies to become a primary mental health practitioner and work in academia, added, "AUM's MSN program taught me that with faith all things are possible. Never give up on your dreams."
Freeman said the MSN program currently has a total of 48 students, while the Doctor of Nursing Practice (DNP) program has six students. Twelve MSN students are expected to graduate in December 2020 and three DNP students are scheduled to graduate in spring 2021.