Associate Professor Michel Aaij edits new book examining church reformer Boniface
Associate Professor of English and Philosophy Michel Aaij has edited a new book on eighth-century English missionary and church reformer Boniface, a highly influential figure in early medieval Europe.
The book, "A Companion to Boniface," is a collection of the latest scholarship on Boniface and examines his impact on the regions — Hessia, Thuringia, Bavaria, Frisia, and Francia — of Europe where he worked and developed a cult in the Middle Ages. Numerous saints' lives and modern devotional materials included in the work further reveal how Boniface was and is remembered by religious communities that claim him as a foundational figure, according to an excerpt of the work.
While American, Dutch, English, and German scholars contributed to the work, the book is the only such volume in English, Aaij said.
"This is a compendium of the most recent scholarship on this important saint, written by some of the most outstanding scholars in the world," he said.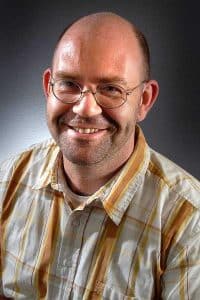 Aaij, who studied at Amsterdam's Vrije Universiteit and received his doctorate in medieval language and literature from The University of Alabama, enjoys researching world literature, digital scholarship, and the popular veneration of saints. He has previously published on saints Elisabeth of Thuringia and Boniface.
"Boniface has dominated my research for the past decade," he said. "I have a few more Boniface interests that I can now focus my attention on, including a book-length study of his cult, his importance to the mission in Africa, and an annotated bibliography of all scholarship on Boniface."
Aaij's latest work on Boniface was co-edited by Shannon Godlove, associate professor of English at Columbus State University, and released in June by the publisher Brill as part of its Companions to the Christian Tradition book series. The series is an important and well-received set of standard works on Medieval people and topics, Aaij said.
"This work has taken me and my co-editor some six years to get it together to complete," he said. "For me, it vindicates what started as a hobby, collecting popular religious material on Catholic saints, specifically Boniface and Elisabeth of Thuringia."