2017-2018 Winners Alumni Association Graduate Scholarships
2017-2018 Winners Alumni Association Graduate Scholarships
The Auburn University Alumni Association recently awarded its annual Graduate Study Merit Scholarships to four outstanding AUM students. The scholarships require that recipients maintain a GPA of 3.4 or higher, enroll in and complete nine hours each semester and be continuously enrolled for each semester covered by the award.
The $1,000 scholarships, funded by alumni memberships, were awarded by the AUM Alumni Board of Directors to Eleanor Planer, Haiyi Wang, Christopher Tusing and Tana Shealey.
Planer earned a bachelor's degree in English from Auburn University at Montgomery in 2001 and is currently pursuing a Master of Teaching Writing. She plans to use her writing talents in the classroom as a First Year Composition and Basic Writing professor at a university. Planer discovered her love for teaching others through her career as a restaurant manager and her volunteer work as a first grade Sunday school teacher at her church.
Wang earned bachelors' degrees in Accounting and Finance from Auburn University at Montgomery and is currently pursuing a Master of Accountancy degree. Wang stays involved with AUM and in the community as a College of Business Ambassador. He is currently gaining experience as an accountant at a local business while he completes his degree. Wang's ultimate goal is to become a CPA and work for one of the big four international accounting firms upon graduation.
Tusing earned a bachelor's degree in Information Systems and Data Storage Management from Auburn University at Montgomery in 2011. He is currently pursuing a master's degree in Childhood Education and plans to teach 4th grade mathematics upon his graduation. Tusing has remained involved in the community through his work with Meals on Wheels, various youth ministry programs and the Selma Fire Department.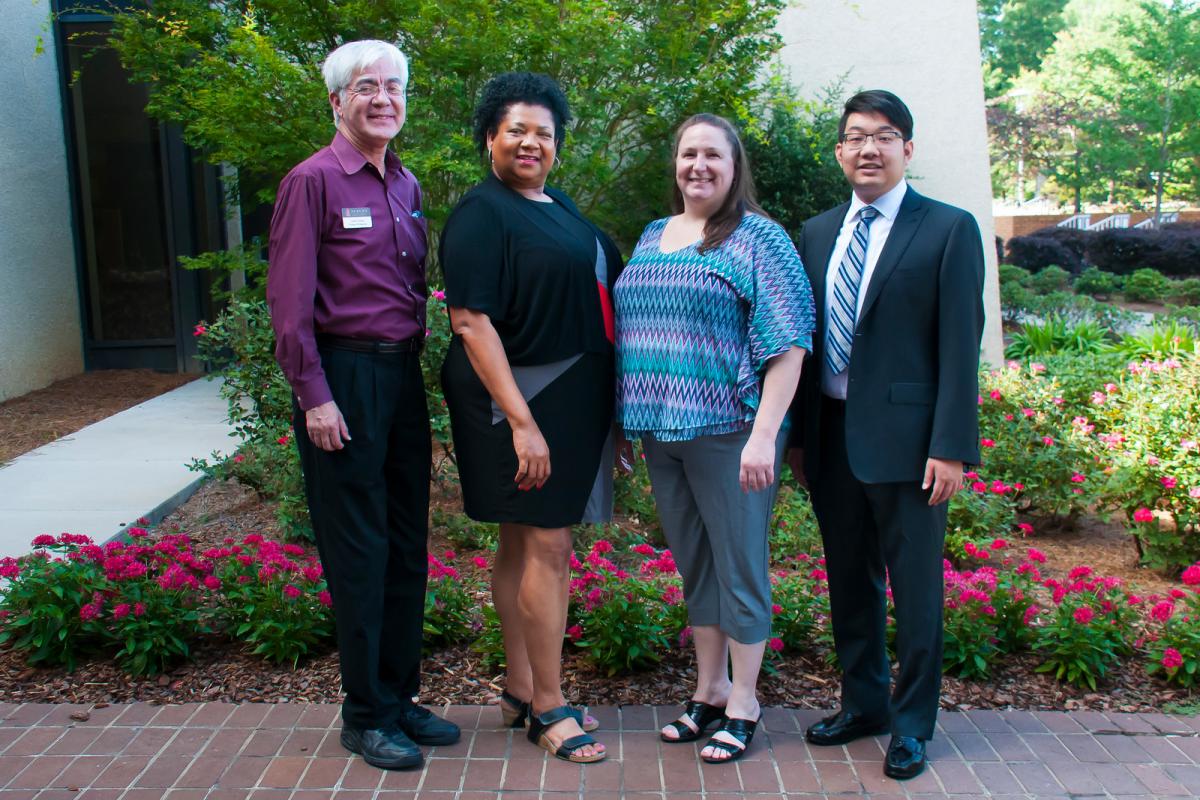 2017-18 AUM Alumni Association Graduate Merit Scholarships Awarded
Pictured above L to R: Gilbert Duenas (Alumni Board Director), Tana Shealey, Eleanor Planer, Haiyi Wang
Not pictured:  Christopher Tusing
Shealey earned a bachelor's degree in Journalism from Alabama State University. She is currently working towards a Master in Liberal Arts degree at AUM while working full-time for Auburn University at the Autauga Extension office. Upon graduation, she plans to pursue a career with the Alabama Cooperative Extension System to help rural residents with economic hardships develop effective communication and employment skills.