2014 Winners Alumni Association Graduate Merit Scholarships
2014 Winners Alumni Association Graduate Merit Scholarships
The Auburn University at Montgomery Alumni Association recently awarded its annual Graduate Study Merit Scholarships to five outstanding AUM students. The AUM Alumni Association Graduate Study Merit Scholarships are awarded annually to deserving graduate students at AUM. The scholarships require recipients maintain a GPA of 3.4 or higher, enroll in and complete nine hours each semester, and be continuously enrolled for each semester covered by the award.
The $1,000 scholarships, funded by alumni memberships, were awarded by the AUM Alumni Board of Directors to Molly Freeman, Melanie Hamlin, Alycia Jeong, Sandra Kay Tippett, and Ashley Warren.
Freeman, a Montgomery native, earned her Bachelor degree in Biology from Davidson College. She is pursuing a Master of Liberal Arts in Geographic Information Systems and Anthropology, and is a member of the AUM GIS & Anthropology Association. Freeman currently works as a Graduate Assistant for the AUM School of Liberal Arts and formerly served as a GIS technician for the AUM Center for Government and Public Affairs.
A resident of Troy, Hamlin is currently pursuing a Master in Secondary Education, Biology. She earned her undergraduate degree from Troy University in Business Administration. Upon her graduation, Hamlin plans to teach middle school science. She is a member of Beta Beta Beta, a national biology honor society.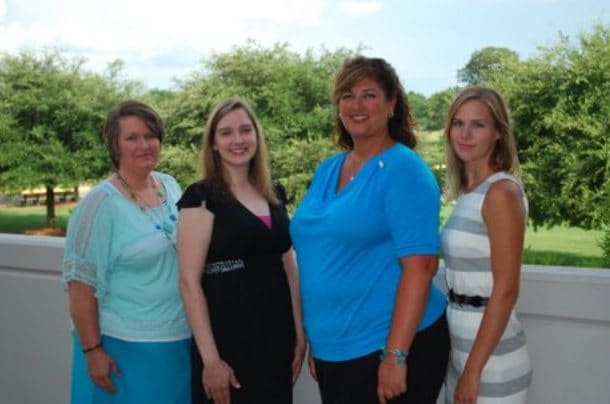 Pictured above L to R: Sandra Kay Tippett, Alycia Jeong, Melanie Hamlin and Molly Freeman
Not pictured: Ashley Warren
Jeong is originally from Arkansas and makes her home in Montgomery. She earned her Bachelor of Arts degree in Communications from the University of Central Arkansas, and is currently pursuing a Master of Public Administration. She is employed at the Alabama Partnership for Children, a 501©3 nonprofit organization as the Smart Start Coordinator. Jeong was also awarded the Ida Belle Young Graduate Merit Scholarship for the 2014-15 academic year.
A resident of Clanton, Tippett expects to earn her Master of Liberal Arts degree in August 2015. She earned her Bachelor of Science in Arts Education from Auburn University at Montgomery.  She teaches English and Literature at Chilton County High School, and was elected as a member of Phi Kappa Phi Honor Society.
Warren, a Montgomery native, earned her Bachelor of Art degree in English Literature from the University of Alabama at Birmingham. She then went on to earn a BFA in Drawing from the Memphis College of Art. She is currently pursuing a Master of Liberal Arts with dual concentration in English and Art History. Following the completion of her MLA degree, she plans to continue her education at AUM by pursing the Master of Teaching Writing program.